It was around this time last year when many were asked to alter their idea of the typical workplace, adapt to evolving health and safety requirements, and embrace what felt like a widespread remote-work experiment due to the COVID-19 crisis.
Now, as vaccinations continue to roll out, conversation surrounding the workplace is changing once again: specifically, what does this progress mean for those in traditional, in-person office jobs as we look ahead?
Autodesk has beautiful offices around the world, located everywhere from Portland to Dublin to Singapore and beyond. For employees eventually returning to an Autodesk office in some capacity, it's important they continue to have access to spaces that tell a story – specifically designed to encourage collaboration, creative thinking and health and wellness as our society recovers.
That, of course, includes our ever-growing employee base in the Bay Area. It was here that we established our company roots nearly four decades ago, built our worldwide headquarters and introduced newer office additions at One Market and Pier 9. Today, we're excited to expand our footprint with a beautiful new workspace at 300 Mission, right in the heart of downtown San Francisco.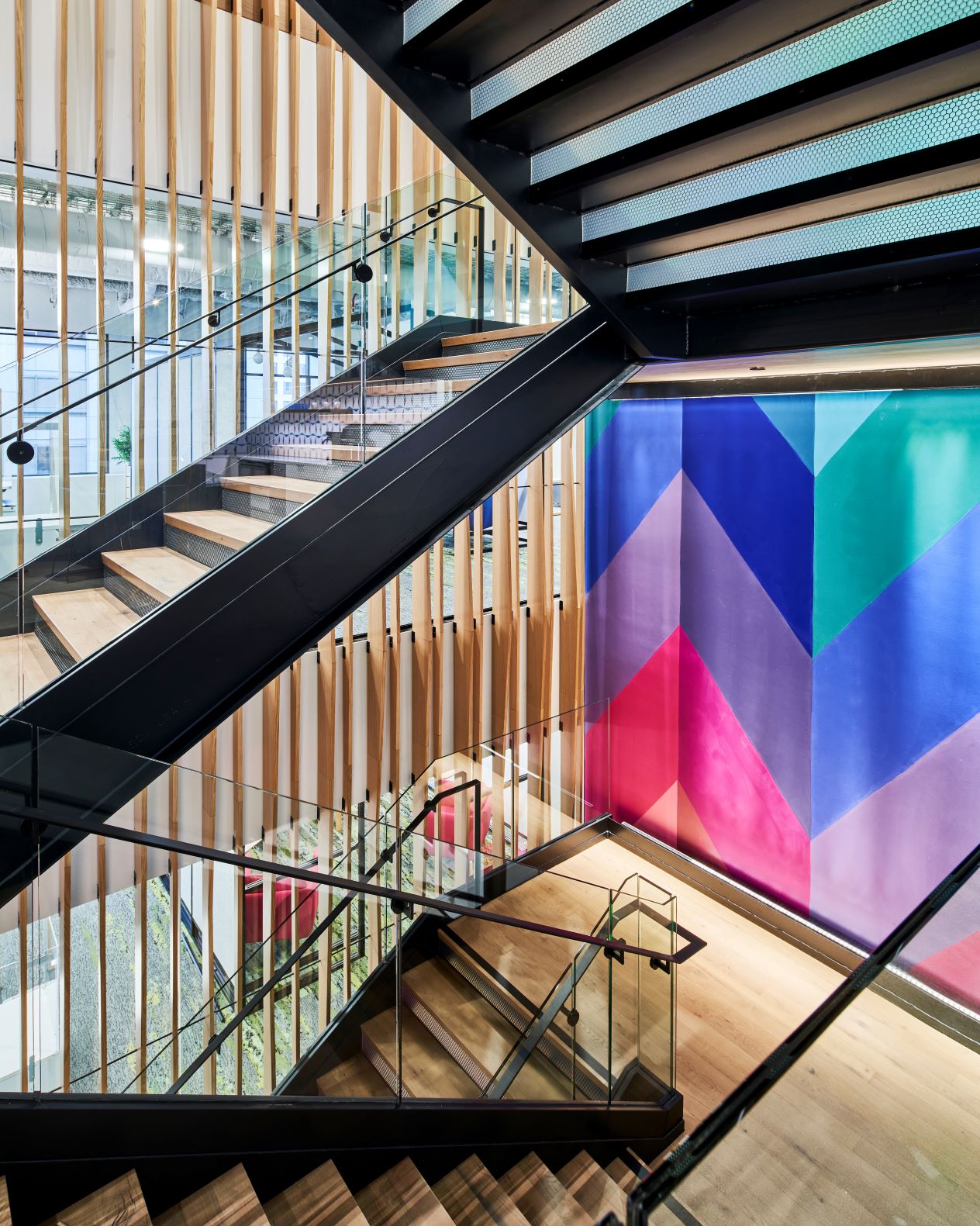 300 Mission: Designed for and in Partnership with Autodesk Employees
300 Mission is a new Autodesk office in downtown San Francisco, steps away from One Market. Its introduction comes at a time when some Bay Area companies are announcing their departures, relocating headquarters to other cities or vacating physical office spaces all together. For Autodesk, we're excited to continue growing our Bay Area presence and can't wait to share this beautiful new space with our team.
The 117,000 square foot site includes four floors of flexible office space and aims to create a sense of community and collaboration, while also helping to keep Autodesk employees healthy, safe and inspired. In fact, its design was directly influenced by our employees and shaped by their feedback along the way.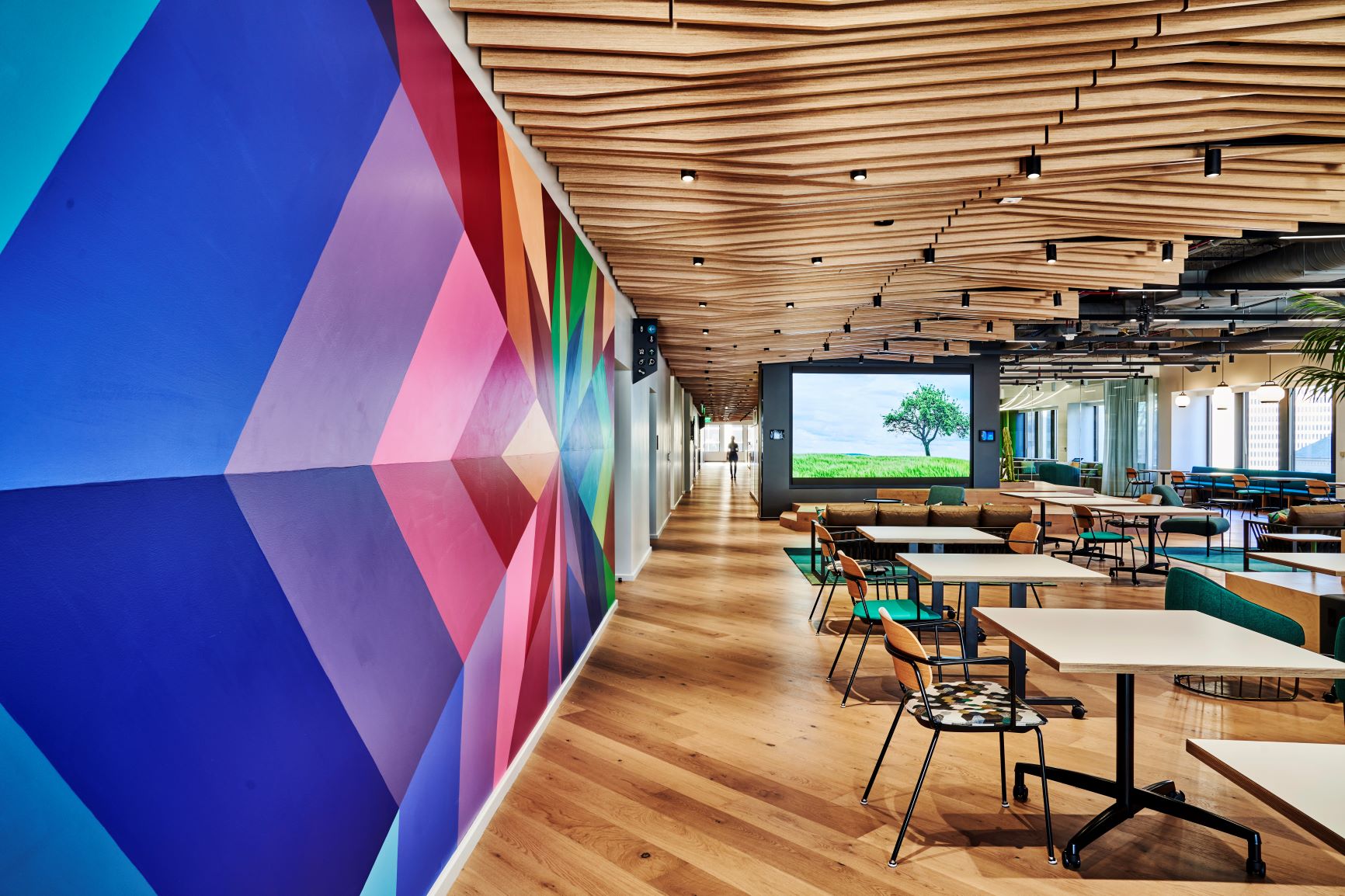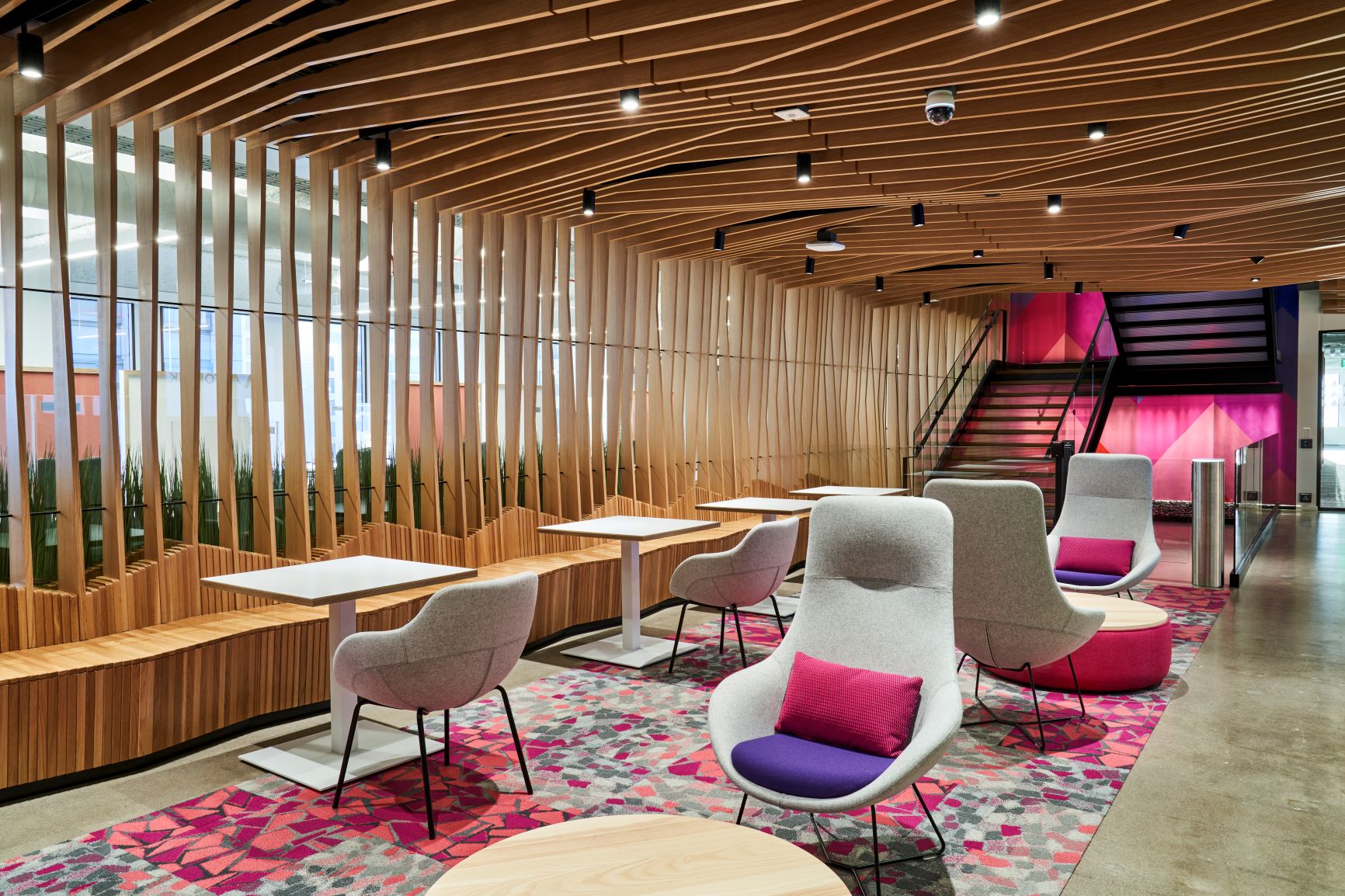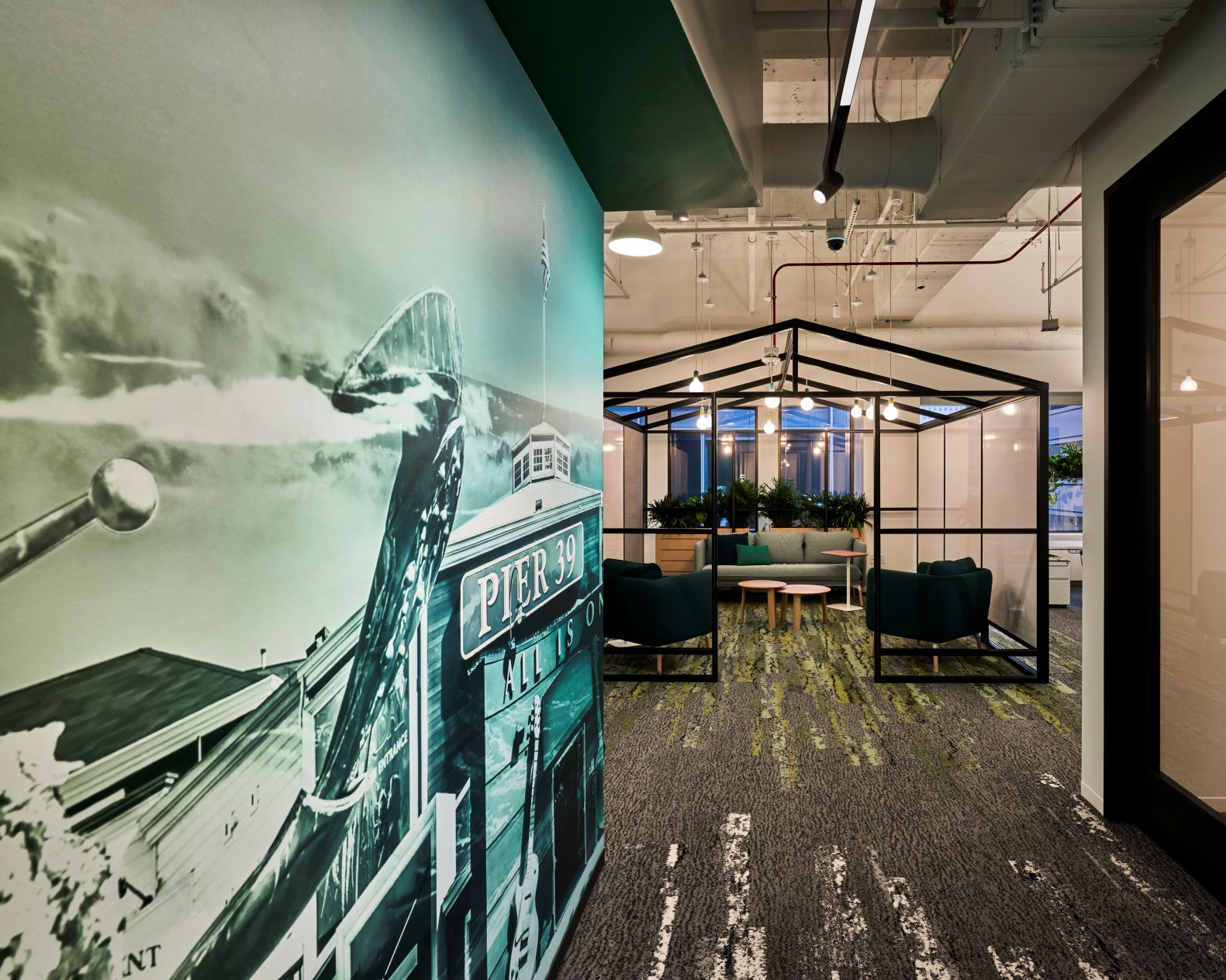 Throughout the process, we hosted a number of employee engagement opportunities in order to identify key design preferences and priorities across cultural, spatial and workplace experience factors. The Employee Engagement Survey was particularly helpful here in gathering valuable insight, discovering patterns and pinpointing any potential tensions. For example, when employees were asked to describe their ideal future workplace in a single word, we collected a wide range of inspirational language – from "light" and "natural" to "snack-filled" and "plants."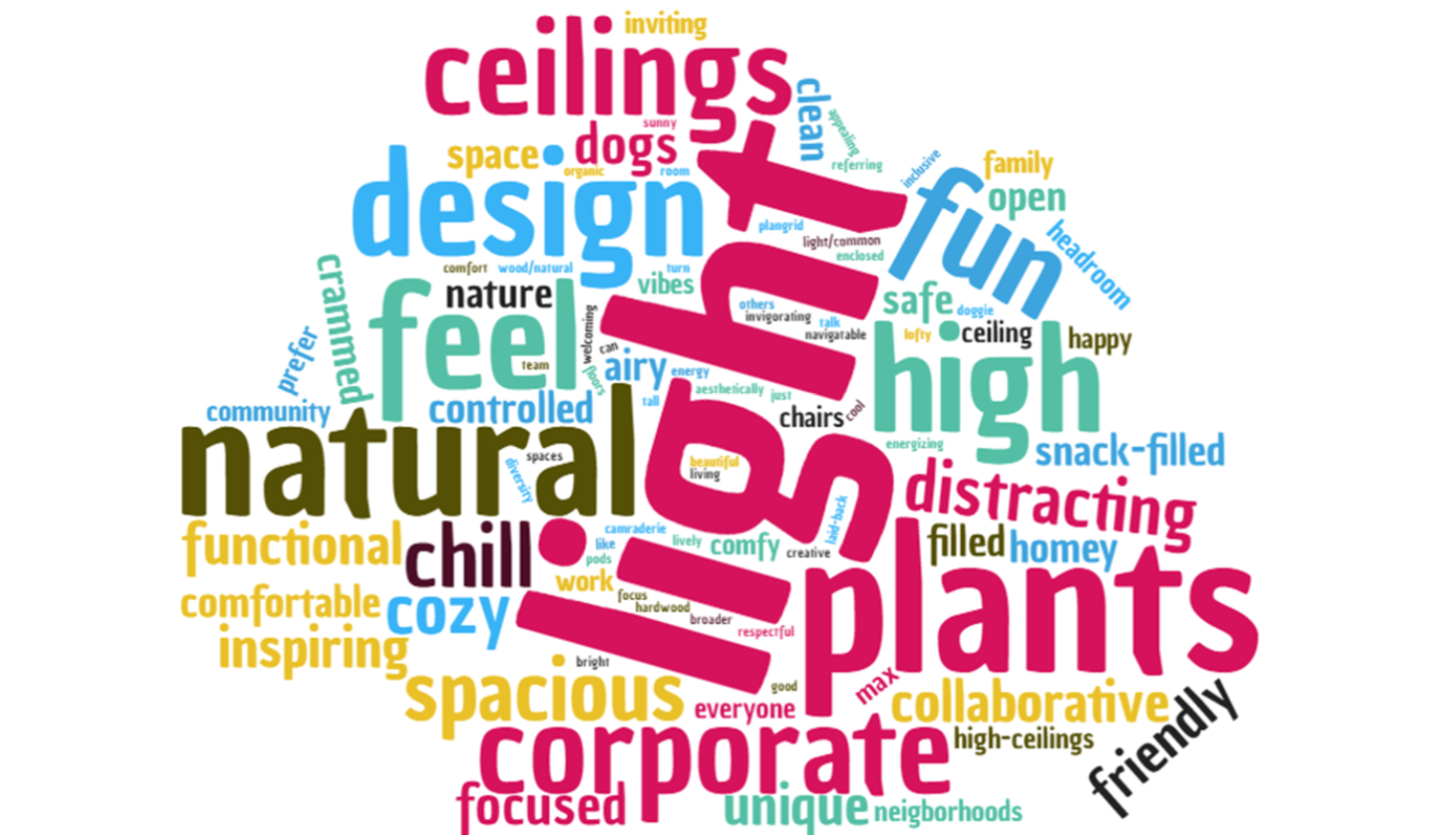 We also included questions about office must-haves, as well as favorite types of furniture, workspace environments and Bay Area themes. All of this feedback was considered in creating 300 Mission's final design, which now features San Francisco-themed floors, lots of collaborative workspaces and pieces commissioned by local Bay Area artists like Kristin Farr, Liz Hickok, Alice Lee and Amos Goldbaum. In addition, employees will have access to an array of office amenities – from a fully equipped gym and music studio to a game room and lounge space.
Local artist collaborations and employee amenities aside, it was also incredibly important to us that 300 Mission upheld Autodesk's ongoing commitment to sustainability across all project phases, from initial development to final build.
Autodesk tools played a significant role in bringing that commitment to life throughout the construction process. Our teams used technologies like Revit, AutoCAD, BIM 360 and Navisworks to help maintain sustainable building practices, execute efficient space planning and design safely and collaboratively amid COVID-19.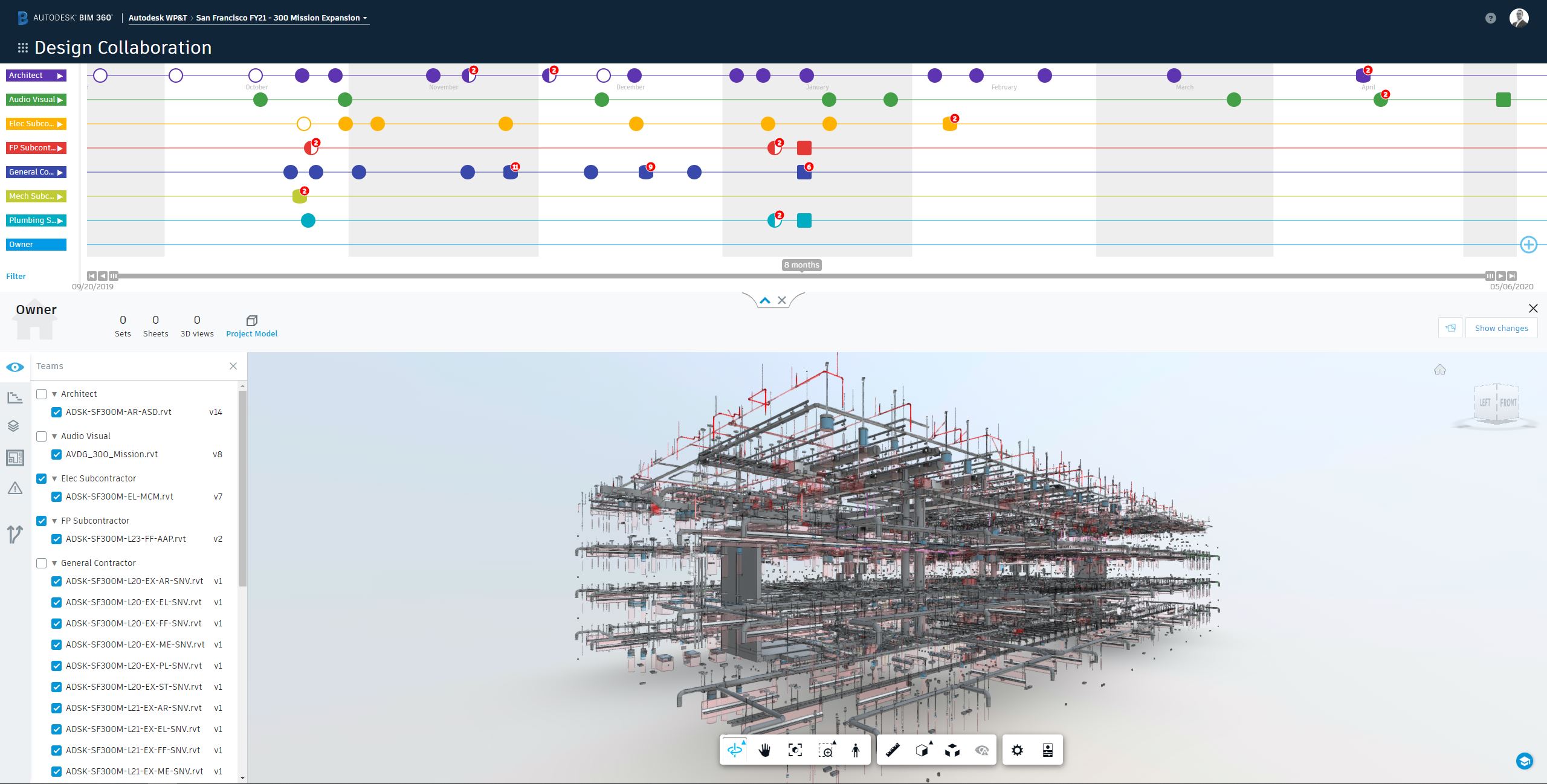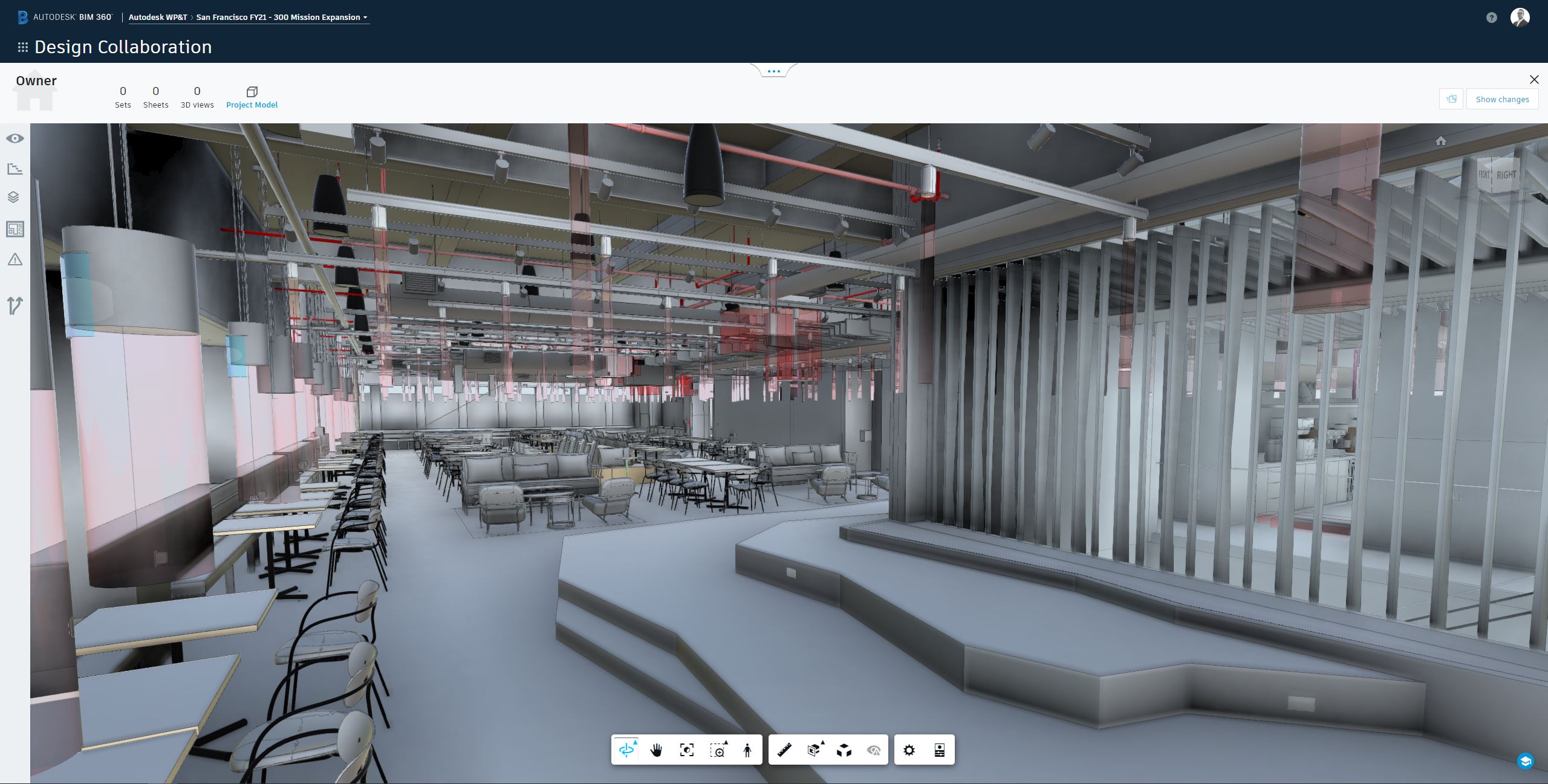 Autodesk's sustainable ethos was incorporated into 300 Mission's employee experience as well. As a result, the highly engaging and functional space features eco-friendly design considerations such as added bike storage, an electric scooter and skateboard charging station, as well as community waste, recycling and compost options.
COVID-19 Considerations:
Maintaining the health and safety of our 300 Mission construction crews was a top priority for Autodesk throughout development, and that careful mindset will carry through as employees eventually begin to populate the new space moving forward. For example:
We've made the decision to lower the overall employee capacity of 300 Mission by 30 percent to support proper physical distancing.

 

We've incorporated COVID-considerate design elements throughout the space such as plexiglass desk shields, contactless fixtures and devices, anti-bacterial film on high touch devices, temperature kiosks and Digital Community Board monitors to remind employees of protocols.

 

Because 300 Mission was designed and developed throughout the COVID-19 pandemic, this new office has served as a benchmark for health and safety measures taken in Autodesk offices globally.
The pandemic is expected to have a lasting impact on how offices will be designed and operated in the future. Autodesk saw the design and development of 300 Mission as an opportunity to explore these new possibilities and rethink its design for a post-COVID world. We're thrilled to grow our existing San Francisco presence and share the final result with our employees, with the hope that 300 Mission will help keep them inspired, healthy and safe for years to come.