Over the last several decades, Autodesk has driven innovation in every industry its software touches – pushing the boundaries of what's possible across architecture, manufacturing, product design, content creation and more. 
Today, I'm proud to announce that Autodesk – along with Construction IQ, one of our many innovations for the construction industry – has been recognized by Fast Company in its annual list of the World's Most Innovative Companies (MIC) for 2020.  
In recent years, we've invested significantly in the construction industry, viewing it as a natural evolution to our 35+ years of providing tools for design and engineering businesses. A primary goal of our technology continues to be reducing risk and improving quality of projects with Autodesk Construction Cloud, which connects people and data across the entire building lifecycle. 
Driving innovation within the construction industry is a clear priority for us company-wide, anchored in reimagining new ways to integrate workflows, leverage predictive technology and embrace the digital future. But, to be clear, technology doesn't create itself; smart people make smart software.
Initially launched in 2019 by the Autodesk team, Construction IQ earned Autodesk a place in Fast Company's Data Science category, and for good reason – it's an AI-enabled, machine learning service that's reinventing risk analysis for the construction industry. Integrated within Autodesk Construction Cloud's BIM 360 collaborative cloud software, it sifts through mountains of data to assist customers to predict, identify and prioritize a wide range of risks. Its ability to help teams save time, resources and – most importantly – human lives on a given jobsite make Construction IQ a deserving feature for Fast Company's MIC list.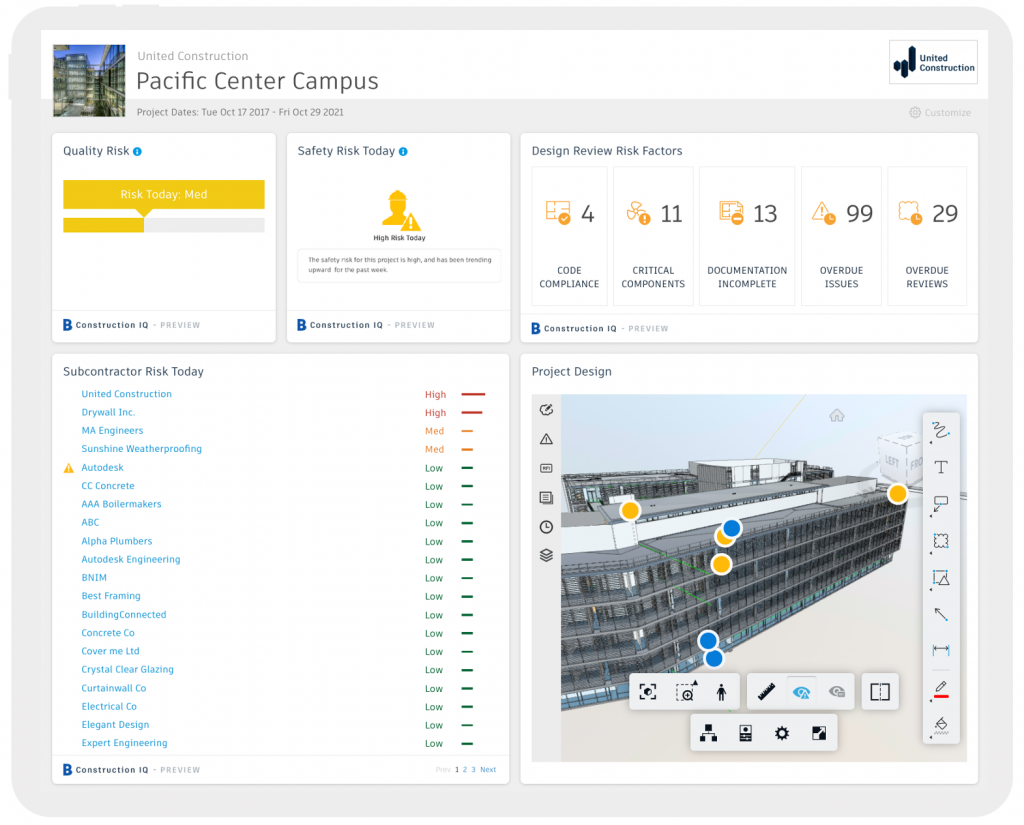 Fast Company senior editor Amy Farley specified that, at a time of increasing global volatility, this year's list showcases the resilience and optimism of businesses across the world. 
This rings especially true for the construction industry, given the global population boom and corresponding construction demands expected over the next 30 years. In fact, Amy's general sentiment aligns well with our motivation to introduce Construction IQ in the first place – to enable the women and men of construction to leverage technology to navigate their rapidly evolving industry and build safer, smarter and more efficiently than ever before.
Check out Fast Company's list of the world's Most Innovative Companies for 2020
We're already seeing the success of Construction IQ in action. Now, nearly 400 customers use Construction IQ across approximately 5,000 active projects, and nearly 12,000 project leaders are leveraging Construction IQ to help them predict and prevent risks.  
This includes firms like BAM Ireland. As one of the earliest adopters of Construction IQ, the BAM Ireland team integrated Autodesk Construction Solutions technology to help predict, identify and prioritize a wide variety of daily hazards. 
The results? Since introducing Construction IQ across jobsites, BAM Ireland has moved from slow, error-prone paper workflows and improved oversight on multiple complex projects. In fact, the use of Construction IQ has helped them achieve a 20% improvement in safety and quality, as well as a 25% increase in time spent remedying high-risk issues.
Another customer, US-based construction company Danis, reimagined how the 104-year-old firm approaches its work by bringing on Autodesk technologies, including Construction IQ for design review management. Catching design errors during the construction phase of a project often results in costly change orders and delays.   
Today, Danis can review architectural designs during preconstruction and, with the aid of Construction IQ, catch errors before they become major headaches. Time is money, and bits and bytes are cheaper than bricks, so addressing problems in the digital world is far more beneficial than catching them in the physical world. 
We're thrilled to be able to help general contractors and civil engineering firms like BAM Ireland and Danis keep their people safer, as well as tackle construction industry challenges and opportunities ahead. We celebrate Construction IQ's success alongside them, as well as the Autodesk team members who brought this technology to life.