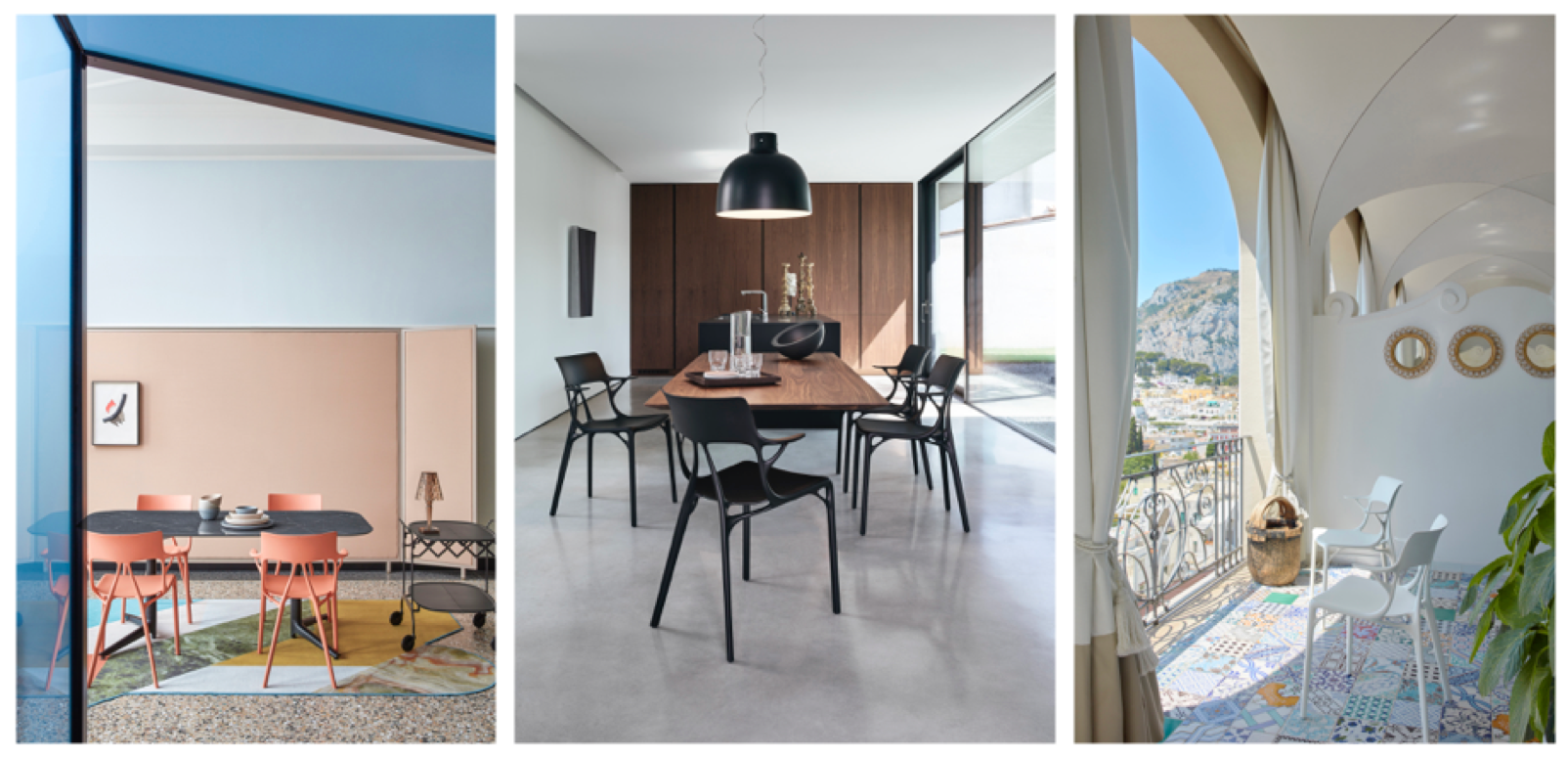 In April 2019, design history was made as the first chair created in partnership between humans and artificial intelligence was unveiled during Milan Design Week. The "A.I. Chair" is the result of a collaboration between Philippe Starck, Kartell, and Autodesk.   
A.I. Chair was developed with generative design, a form of artificial intelligence that leverages the power of the cloud to create better outcomes for products, buildings, infrastructure, systems and experiences.  
As of today, A.I. is now available.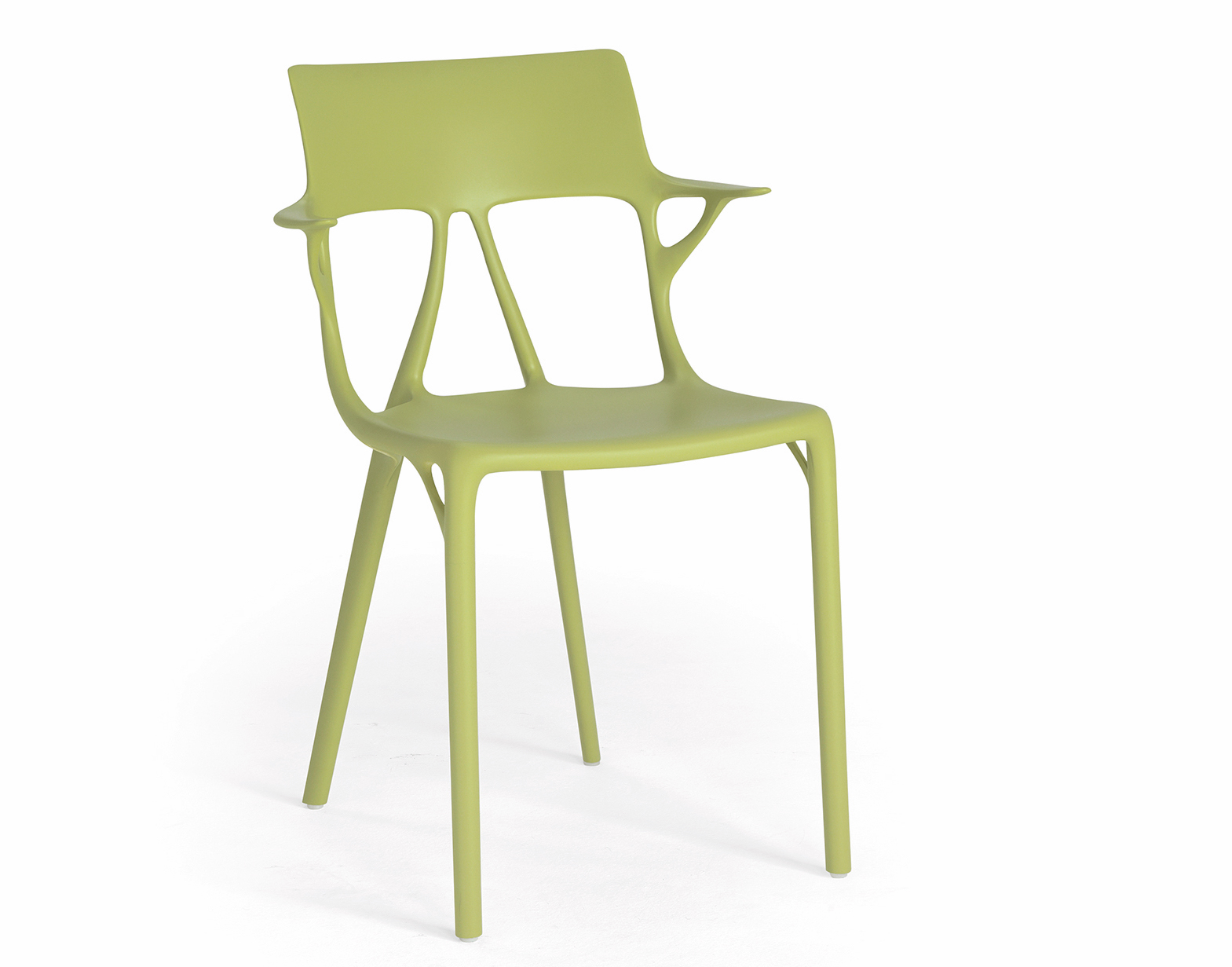 At IMM and Maison & Objet, two international interior design fairs taking place this week in Cologne and Paris, Kartell is officially launching the A.I. Chair. To add to the excitement, the chairs are being manufactured using 100 percent recycled material. 
The Kartell team is using a pure and uncontaminated recycled material that fully respects the aesthetic quality and structural requirements. This is the first time that the world–renowned furniture company is using materials derived solely from the scraps of their industrial production. 
"This chair is a perfect example of the design and manufacturing industry moving toward sustainability and circularity," says Arthur Harsuvanakit, Senior Designer at Autodesk.  
Kartell has been focused on sustainability for more than a decade. In 2019, for their 70th anniversary, they introduced a manifesto, "Kartell Loves the Planet," which emphasizes the company's commitment to sustainability and environmental friendliness. With A.I., Kartell is taking another step forward in its ongoing commitment towards safeguarding the environment.  
"Unconsciously, we're trying to produce objects with less material. Ultimately, design is about the theory and strategy to reduce the amount of material used. That's why it was so important to use the minimum material possible for this chair. We should be trying to use less material with the objects we create," says Starck.  
Upcycling
Material and Circular
Design
With an expected 10 billion people living on the planet in a matter of decades, we need to radically rethink how we use materials and energy in a responsible and circular way. 
Learn more about Autodesk's efforts with design and circularity. 
For decades, products have been designed as if resources were unlimited. The need to reduce our negative impact on the planet and on people is a reality that's here. In implementing circularity, materials are used in a closed-loop system with the goal of reducing waste by reusing, refurbishing, remanufacturing, recycling, and upcycling. And circularity starts with design. 
"Circularity is not about simply recycling. It's about truly embracing this idea of upcycling and making sure that the materials that we put in our products can be upcycled and used in a new product," said Lynelle Cameron, CEO of Autodesk Foundation and Vice President of Sustainability for Autodesk, in a recent video.  
Claudio Luti, Chairman of Kartell, said, "It's not a question of simply creating a product that seems green, but of generating an industrial strategy that involves the entire manufacturing process, from the business plan and marketing to communication actions and the sales network."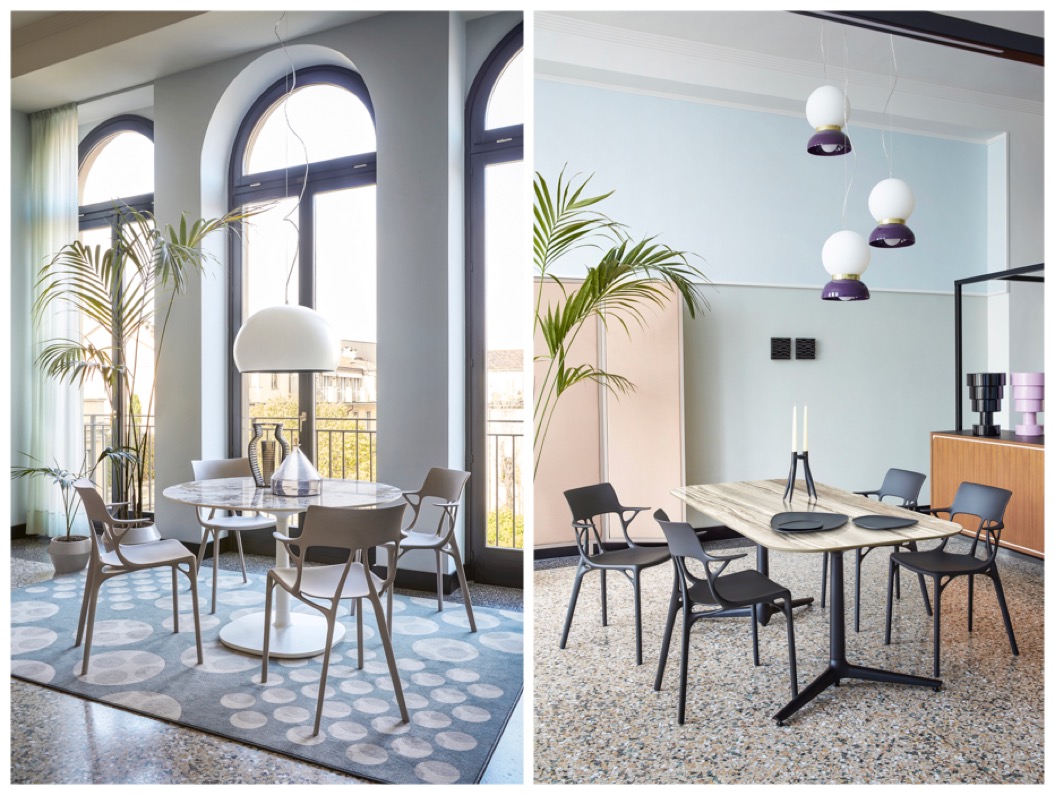 How
I
njection Molding
Played a
Key
Role
During the chair design process, injection molding was specified as the best manufacturing process for mass production. But with injection molding come certain constraints around wall thickness of the product being manufactured.  
"We had to kind of push the tool toward producing solutions with relatively minimal wall thickness for injection molding. That meant figuring out new strategies and adjusting our algorithms to accommodate for those constraints," explained Harsuvanakit. "With generative design, you are able to, in order of magnitude, create more solutions and strive for better solutions faster." 
Here's to more opportunities to design and make with less material and more sustainability.