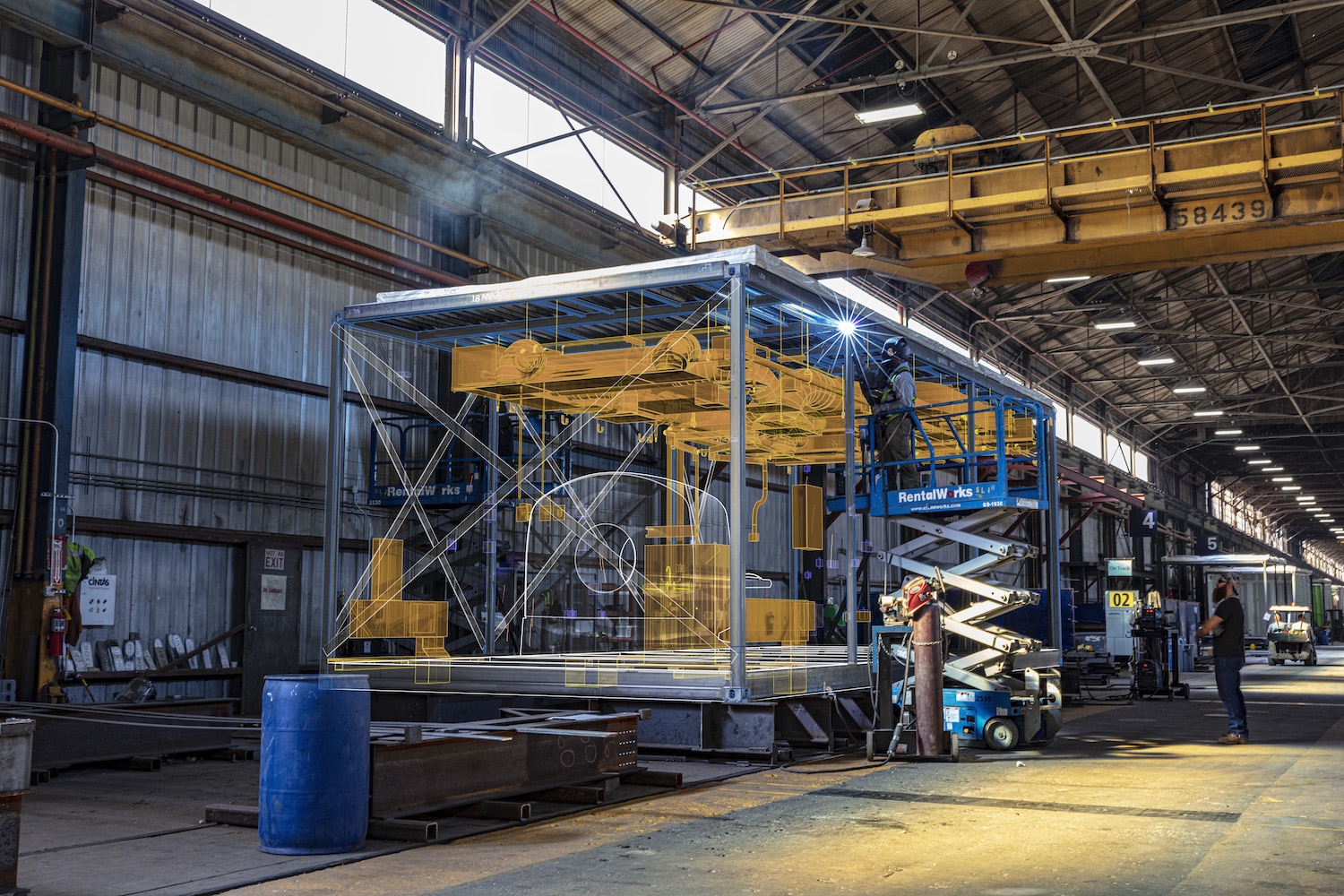 A trend we at Autodesk have been observing and encouraging for a few years now is what we refer to as 'convergence of industries'. By that we mean when companies in one industry borrow practices from other industries to make their own processes better. When we see our customers engaging in this kind of innovation, our people are eager to help supply tools and support.
That's certainly true of BLOX, a firm that's using a manufacturing-forward approach to design and construct buildings to achieve the productivity level of a factory assembly line. And with the application of BIM and the digitization of their workflow (with some help from a team at Autodesk), BLOX is proving that blurring the lines might just be the most clear-headed approach to advancing construction for the better. This type of industry convergence is what is often called industrialized construction.
It all started in the early 2000s. Designer Chris Giattina was facing what seemed like an impossibly tight timeline for a building project when he took inspiration from the auto and airplane manufacturing industries. He saw how car makers and companies like Boeing drove massive efficiencies by manufacturing their complex products as a series of prefabricated assemblies. He figured the same process could be applied to the complex world of building design and construction.
From that insight, BLOX was born. Giattina had been principle architect at design firm GA Studio. With BLOX as a spin-off company, his goal was to bring together design, manufacturing and construction under one roof—literally.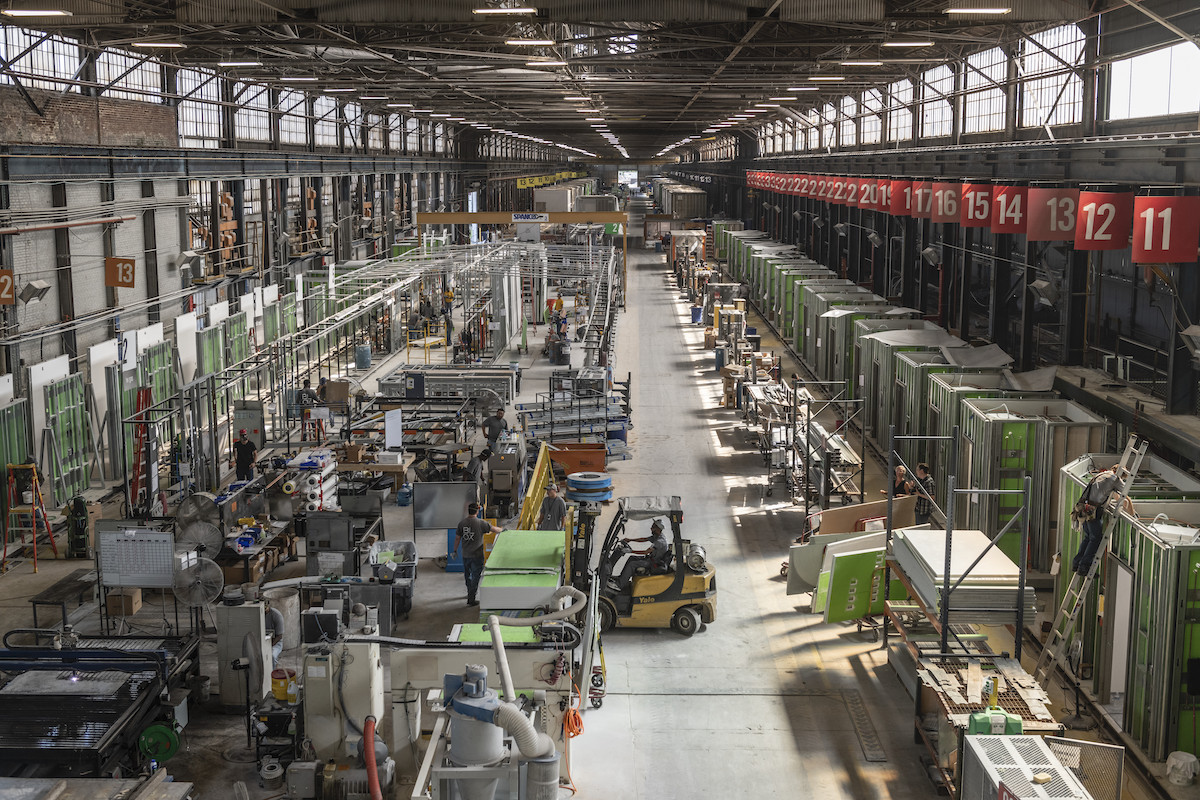 Now housed in a century-old Pullman Standard train car factory in Bessemer, Alabama, the BLOX team has proven that they can apply a modular method, which Giattina calls Design Manufacture Construct (DMC), to buildings.
The ABCs of DMC
Under DMC, buildings are designed as a series of pre-assembled parts–from wall units to whole rooms complete with plumbing and electrical systems. These assemblies are fabricated in the Bessemer facility, then shipped and put together at the building site. BLOX does this at a fraction of the time traditional construction takes without compromising on quality or budget.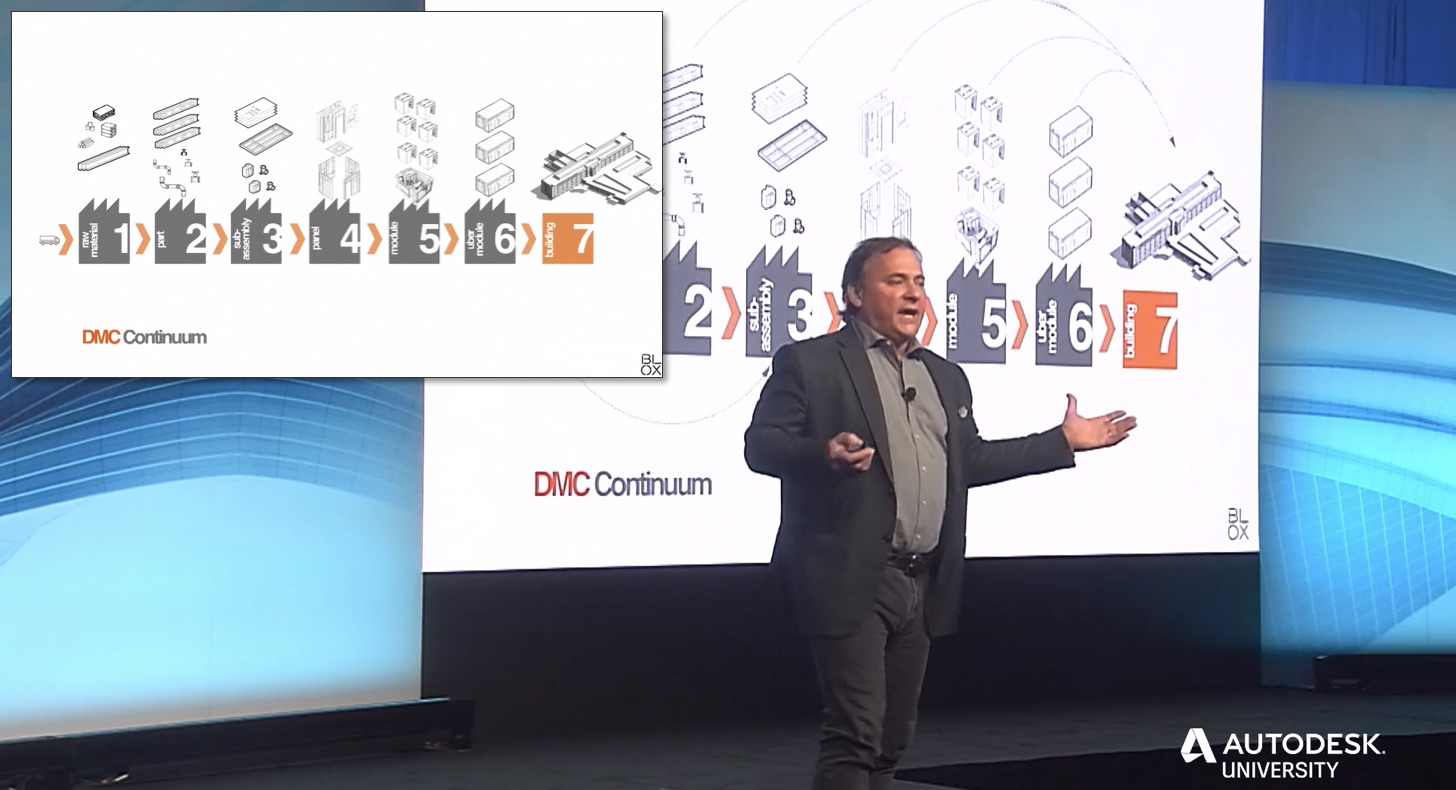 In fact, Giattina's mantra is "2x2x2": BLOX delivers building projects at double the quality, speed and value of conventional construction. Operating in a factory environment also means less material waste than traditional construction.
Watch Chris Giattina's Autodesk Univesity 2019 theater talk here (15 mins).
Reducing waste and doubling construction productivity is impressive enough when it comes to residential and office buildings. But BLOX applies its DMC method to one of the most challenging building types there are: hospitals.
Hospitals and healthcare facilities up the complexity quotient in several ways. One: individual hospital rooms require more complex HVAC, electrical and plumbing systems than your average suburban living room or urban high-rise meeting room. Two: hospitals have a huge variety of room types—patient rooms, trauma centers, labs, scanning facilities and more. Three: regulations. It's not just one set of rigorous regulatory standards, but—at least in the United States where BLOX does business—it's 50 different sets of state-by-state regulations.
This is where BLOX's genius really shines. Again by borrowing a page from manufacturing, BLOX uses software to find repeatable commonalities for each type of building component that work across all regulatory environments. This results in standard modules, or "best-in-class components," which can be reproduced and expanded upon.
This doesn't mean that BLOX produces cookie-cutter healthcare facilities. Once a standard module is engineered and finalized, BLOX reproduces it allowing a degree of variation—which is "what we need to have to make life interesting, to make buildings beautiful, to make quality resonate," according to Giattina.
BLOX is currently applying the DMC process to a 170-bed hospital in Nevada. Other recent projects include free-standing emergency departments in Nevada, Florida and Texas for UHS (Universal Health Services) and standard modules for acute care patient rooms for dozens of hospitals including one in Plano, TX for HCA (Hospital Corporation of America).
Today, the company can crank out 15 of those types of projects in a single year.
"You can make a whole building in about three weeks and just keep them coming," Giattina says.
Building BLOX
Unsurprisingly, software has been key to turning an old-school analog construction process into a modern digitized manufacturing operation.
BLOX was a longtime Revit user, designing its building components under the guidance of Building Information Modeling (BIM) guru Nate Renfro. But Renfro saw an analog disconnect going from the digital design to the manufacturing process on the Bessemer factory floor.
Instead of their standard paper-based system where PDFs were generated from the Revit model, printed, and distributed to the production floor, BLOX wanted a cloud-based data management solution to support projects across the entire lifecycle as they moved through the DMC process. This would allow their manufacturing experts to give feedback about materials, tooling and manufacturability during the design process, not after. If they could frontload that kind of decision-making, they could accelerate the DMC process even more.
In early 2017, the BLOX team began a deeper, 18-month connection with Autodesk as BLOX worked to digitize its complete DMC workflow. Autodeskers Charles Coppage and Tara Brice served as point people to assist BLOX with its workflow integration and software adoption. Piece by piece, BLOX onboarded elements of BIM 360 for design, document management, collaboration, field management and operations.
The BLOX team continues to refine and improve its workflow with support from Autodesk. Brice, an Autodesk customer success manager, calls it "one of the most collaborative customer relationships I've experienced." Renfro was a "champion for BIM 360," and according to Brice, "he understood and believed in the BIM 360 strategy, and he was very clear about what he needed from the software."
Coppage notes that BLOX has become something of a super-user of Autodesk's construction software. Because the BLOX team was breaking with conventional construction processes and inventing new ways of working, they needed the Autodesk team to function as more of a test partner than a vendor.
"Going to work for a company like BLOX where the mission is to fundamentally change the design, manufacturing and construction business, you get a different kind of person. You get people who are trying to figure out how to do things that have never been done. A lot of times for the team at BLOX, there is no known way to do it. They've just got to figure it out. So we became part of the collaboration team," Coppage observes. When the BLOX team ran into obstacles, the Autodesk team was there right alongside them as they solved problems.
While BLOX is shipping its hospital components to meet the healthcare needs of cities all over the U.S., it's also contributing to its home community and local economy. BLOX may be using manufacturing automations to improve the building process, but that doesn't mean it's killing jobs.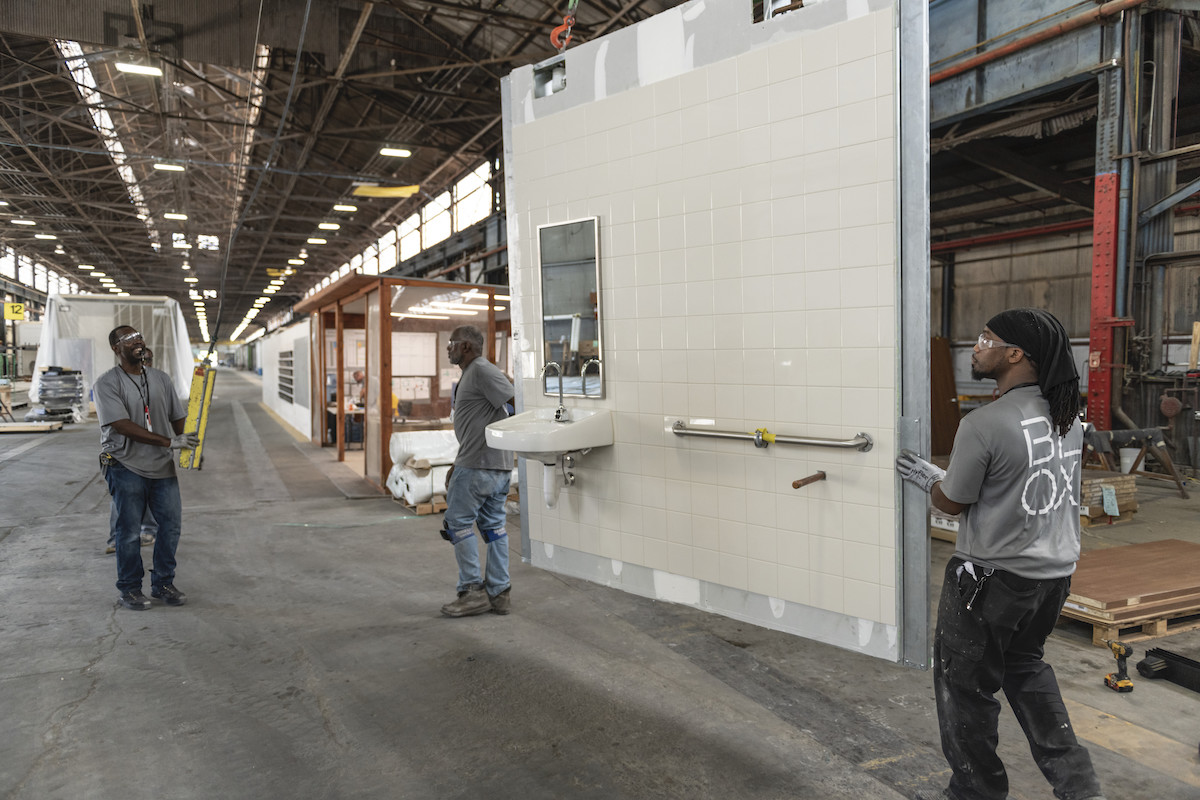 On the contrary, the company depends on people to implement and facilitate its innovative workflows. Today, the company has grown to over 400 people from multiple disciplines and it is still hiring. To fill its own needs as a job creator, BLOX identifies novel resources for professional and semi-professional positions, and maintains a focus on developing a new workforce capable of working within the DMC model. Believing it is never too early to introduce DMC to the future workforce, BLOX is working with other manufacturers, educators, trade groups, universities, and community resources to introduce young people to the potential of DMC as early as middle school.
A Modular Movement
Read more about Autodesk's support of Factory_OS.
BLOX isn't the only company solving nettlesome problems and bringing industrialized construction to life. Bay Area-based Factory_OS is pioneering its own version of factory-based modular construction to residential buildings, in part to help address the region's dire shortage of affordable housing. Like BLOX, Factory_OS is able to deliver buildings faster, at less cost and with less material waste than on-site construction.
Another example comes all the way from the Philippines, where CUBO is tackling the need for housing in fast-urbanizing areas with prefabricated homes made from bamboo.  The small homes, designed in Fusion 360 and Inventor, can be made quickly—one week of off-site manufacturing and just four hours to assemble onsite. They are also affordable, in part because bamboo is an abundant and renewable material. Bamboo also provides a potent sustainability benefit: crops produce 35% more oxygen and absorb 40% more carbon dioxide than slower growing trees.
While BLOX, Factory_OS and CUBO differ in many ways, they all share some of the most promising benefits of industrialized construction, among them: lower cost, faster production, less waste, and safer working conditions.
In a world where we need to produce a staggering 13,000 buildings per day to keep up with global demand through 2050, industrialized construction looks like it may be the best—and perhaps only—way we can meet that challenge.