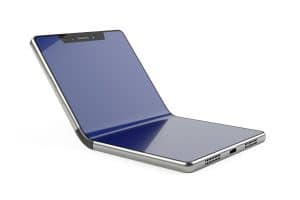 Lenovo is onto something with its foldable PC tablet prototype, which is part of the ThinkPad X1 family. The foldable tablet is actually a full-fledged laptop, according to Lenovo. The company partnered with LG Display to create a foldable 13-inch 4:3 OLED 2K display.
Unlike the Samsung Galaxy Fold which saw some pushback for broken units, this device prototype already seems to be avoiding any issues. Users will find that this devices offers the same productivity as a laptop with the portability of a smartphone.
Lenovo ThinkPad X1 Features
Unfolded, the device is a full 13-inch screen and can be used like an iPad or propped up like a mini desktop paired with a physical keyboard.
Folded, the device has a 9.6-inch screen and the same size on-screen keyboard on the bottom half. The prototype is fully functional, but may take some practice getting used to.
The device is not yet out on the market, doesn't have a name and has no information on pricing. However, Lenovo has released plans to create a compact Bluetooth keyboard to go with it. It is likely that the device will release some time in 2020.
Some features that you can expect with this device are an IR webcam, two USB-C ports, a Wacom stylus and that it runs on an Intel/Windows platform.
The upcoming Lenovo ThinkPad X1 foldable device is targeted towards frequent travelers, business executives and tech enthusiasts. Its design may even be perfect for students.