In February, youth activists rallied at the Massachusetts State House to ask lawmakers to increase funding that would link more high school students with economic and learning opportunities as part of a school-to-career transition. According to the State House News Service, 16-year-old Lianny Gomez said in front of a crowd that had gathered, "My ability to be successful in any career field of my choice should not be limited because of the school I attend or the programs I participate in."
Approximately, 72% of students in Boston Public Schools are Black and Latinx. Conversely, while the city of Boston has a thriving innovation economy, only 6% of the STEM workforce is Latinx and 7% is Black.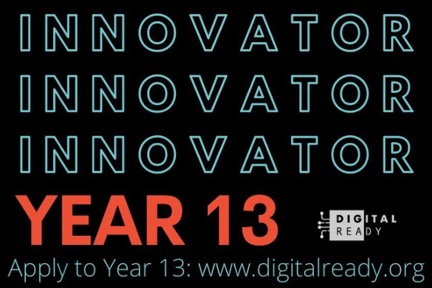 In an effort to help bridge the opportunity gap, Boston-based Digital Ready is launching "Year 13," a new program for Boston public high school graduates. In partnership with Wentworth Institute of Technology, and with support from the Barr Foundation and City Councilor Michael Flaherty, this initiative will provide a no-cost, accelerated pathway into college and future career paths related to architecture, engineering, and construction technology. Wentworth will also house the program.
Curriculum will focus on the intersection of CAD, engineering, computer science, digital fabrication, BIM, and robotics to ready students for the complexity of a constantly evolving economy and society. Students will "learn by doing," using Fusion 360, AutoCAD, Revit, and BIM 360 in modular labs and integrated work-based learning experiences taught by faculty and industry experts at the forefront of their fields. Students will also earn 18 academic credits, making college more accessible and affordable for those who choose to pursue a four-year degree.
Digital Ready has a mission to activate the creative potential of underrepresented young people—students from low-income backgrounds and students of color—with the agency, social capital, and skills to build their own pathways to economic mobility and success in Boston innovation. Additional resources for Year 13 come from industry experts at Autodesk, MassRobotics and The Boston Society for Architecture, and local community partners such as Lena Park Fab Lab and Fabwright Origins.
"Year 13 is a unique collaborative partnership focused on giving Boston's high school graduates the opportunity to excel in an outstanding institute like Wentworth – and in doing so, we will drive systemic change by reimagining what is possible for students," said Dr. Sarah Cherry Rice, Executive Director and Founder of Digital Ready. "By leveraging the incredible resources and expertise in our city, and with help from industry and customer partners, we have an unparalleled opportunity to open up access to college and STEM careers in Boston's innovation economy for Black and Latinx youth. Our students are the innovators Boston has been waiting for."
Learn about our support of HBCUs
While the Year 13 concept had already been in development, its launch was accelerated by the recognized need to support recent high school graduates who are facing a gap year or educational interruption due to the current COVID-19 health crisis. In addition to offering a potential onramp into traditional college, it also aims to provide graduates with an in-demand skill that could lead to immediate paid professional work, in industries that are currently facing a skills gap and in need of new talent. For this reason, Year 13 students will learn to use the mechanical, engineering, and plumbing (MEP) and structural sides of Revit to create and analyze 3D models.
To learn more about Year 13 or to apply, please visit Digital Ready
Boston City Councilor Michael Flaherty called Year 13 a "missing link." He added, "Boston is in the midst of historic change and economic growth. We need to be intentional in creating programs that ensure all of our residents share in this growth. This partnership is just one example of the work we can do together to remove barriers for our students and connect our local, homegrown talent to the innovation economy that is growing rapidly in our own backyards."
Classes begin this fall and applications for the first cohort of Year 13 students are now open Any recent high school graduate from one of Boston's public high schools is eligible to apply. Priority will be given to Black and Latinx students and students who graduated from one of Boston's transformation high schools.