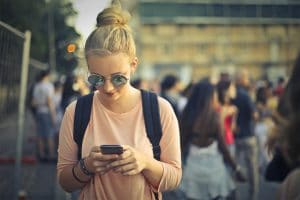 A new report from the Wall Street Journal shows that teens are using burner phones to avoid having parents monitor their social lives. Teens are able to get the disposable, pre-paid devices from their peers and avoid the issue of paying for cellular plans by using them when connected to Wi-Fi.
A recent study shows that 56% of teenagers feel anxious or lonely without their cell phones. The solution? Use a second (burner) phone if their regular phone is taken away.
How Teens Get Burner Phones
Rich Wistocki, a retired high-tech crimes detective of The Wall Street Journal said that there is a teen in almost every high school across the country that is selling burner phones.
However, this concept of hiding Internet usage and activity isn't new. For years studies have shown that kids often hide their Internet activity from their parents, often living a sort of "double life" online. In 2012, a study showed that 70% of kids were hiding their online behaviors. Two years prior in 2010, a study by McAfee uncovered that roughly half of the 1,300 kids surveyed were hiding online activity.
The Takeaway?
Parents: it's important to know your children's lives online. It is more important, however, to teach your children about the pros and cons of technology and how to set their own boundaries to avoid secrecy.
In the meantime, learn about some of the untraceable devices and social apps:
Burner phones
Snapchat
Kik