It was  2011 when Manmeet Maggu was studying mechatronics engineering at Ontario's University of Waterloo when he learned that his nephew, Praneit, had been diagnosed with cerebral palsy. According to the CDC, cerebral palsy is the most common of all childhood disabilities; globally, it touches approximately 1.5-4 newborns out of every 1,000. It canaffect a child's mobility at varying degrees and other vital motor skills, such as speaking, vision and hearing. Praneit's condition was so severe that he would not be able to walk and would most likely spend the rest of his life sitting in a wheelchair. Maggu knew that he needed to help his nephew. "They say that sitting for eight hours a day is bad for you… imagine how bad it is for someone spending their entire life sitting, and we just wanted to fix that," Maggu said.
No Solutions in Sight
Experts agree that kids who live with motors disorders like Praneit's need to have better access to mobility options that help them stay active. "Children need to be up and moving. It's so important for their brain development," says Jo-Anne Weltman, a physiotherapist who specializes in the treatment of children with significant motor disorders. "If [kids with cerebral palsy] sit all day, they can experience uncomfortable joint and muscle contractions, as well as circulatory and digestive issues."
Wanting to create a better future for Praneit, Maggu began researching devices that would not only allow his nephew to experience a bit of movement but also exercise his body and perform gait training. When he discovered that there were no commercial devices on the market for children, he contacted his friend Rahul Udasi, a fellow mechatronics engineering student at Waterloo. Together they began exploring different ways to help Praneit.
The Mechanics of Mobility
They had previously heard of 'exoskeletons' that helped people with mobility issues, but could only find devices that were meant for adults, in addition to being costly and hard to get a hold of. "Rahul and I had a shared vision of what the future is going to look like, and the role that robotics is going to play in the future. When there was nothing out there, we decided to build the future that we envisioned instead of waiting for it to happen," Maggu said.
"To be honest, the device didn't work at first."
Fast forward to 2016. Maggu was pursuing his MBA at the University of Toronto and Udasi had just completed his Master of Engineering, focused on Robotics and Automation at the same school. That summer, they developed a proof of concept prototype for Maggu's nephew. It was a walker with robotic legs and a battery pack that a child could be fitted into. A parent or physical therapist would then control the child's motion through an app that would move the robotic legs, while still allowing the child to engage their own muscles as they experienced movement. With the working prototype finished, they were ready to start testing.
Finding Their Stride
With the prototype built, Maggu packed up the robotic legs and flew to India where his nephew lived so he could try the device. It wasn't as simple as he had originally thought. "To be honest, the device didn't work at first" says Maggu. After a few rounds of hardware modifications at his brother's workshop in Delhi, Maggu was finally able to watch his nephew successfully take his first steps with the device. It was a triumphant moment.
"It's going to make a big change, in so many children's lives."
After returning to Canada the team realized they had created something viable. "We started getting interest from families, from clinics, from hospitals, and that's when we realized that we were on to something. That's how Trexo Robotics was started," said Maggu, who is the CEO, while Udasi is the CTO.
"I think the first time I saw it was on the internet," says physiotherapist Weltman. "And I was like, 'Finally there is something that will help so many more children.' I've been following them from the start and am very excited to test it out with my patients. Because I think it's going to make a big change, in so many children's lives.
The founders started recruiting a team to help them build an easy-to-use, effective and cost-efficient robotic walker for children with lower body disabilities. The goal? That the device would not only improve a child's physical health through exercise but also improve mental health and self-confidence, all the while giving them the freedom to walk.
Entering the Innovation Space
Like many new startups, Trexo faced numerous challenges in moving beyond their initial prototype. They needed access to resources such as machinery and materials, plus a scalable solution to 3D-print various parts for the robot walker.
"It means that you don't have to put something out into the world and then wait two months for it to come back before you can know if it works or not."
In early 2018, Trexo joined the Residency Program at the Autodesk Technology Centre in Toronto, which allowed the team to bring in their prototype and rapidly begin producing 3D-printed pieces to assemble and test even more robotic walkers.
"Rapid prototyping is really changing the game for mechanical engineering," said Anelise Jorgenson, a mechanical designer at Trexo. "It just means that you don't have this wait time, you don't have to put something out into the world and then wait two months for it to come back before you can know if it works or not, which means you can take more risks, and when you can take more risks, then you open up this whole different field of possibilities."
The team was also seeking mentorship from different industries. Being part of the Autodesk residency program gave them access  to valuable resources such as expert-led Fusion 360 workshops, Autodesk-run industry networking events, and equipment. "Giving their team the hands-on time with the technology and access to the 24/7 facilities let them refine their workflows and ultimately take control of the manufacturing of their product," said Chris Chekan, Shop Supervisor at the Autodesk Technology Centre in Toronto.
Gaining Traction
With the support of the Technology Centre staff and resources, and after many iterations, the team produced a second-generation walker. Their next challenge was to refine some of the elements of the initial prototype built for Praneit, keeping in mind that the child's comfort is tantamount. According to Maggu, "Comfort was one of the biggest design hurdles that we saw early on. You can build the most advanced robotic system with the most amazing control algorithms, but if it's uncomfortable, no child will wear it for more than five minutes." Maggu and his team iterated with more than 78 different materials before finding the perfect combination. The team settled on using a chopped carbon-fiber mix as the material for the 3D-printed parts.
Matthew Spremulli, an Industry Engagement Manager at Autodesk in Toronto, says Trexo was able to dramatically accelerate their product development by using the Markforged Onyx, a 3D printer, to produce the final parts for their walkers. "At the beginning they weren't sure if this material (chopped carbon-fiber mix) and printing process would be useful beyond making mock-ups. But by the end they became a great case study of a startup using the printer (and material) for production parts," Spremulli said. He views Trexo's experience in the Residency Program as a success, adding, "They were able to leverage the program for larger initiatives – such as their acceptance into the Y-Combinator Program."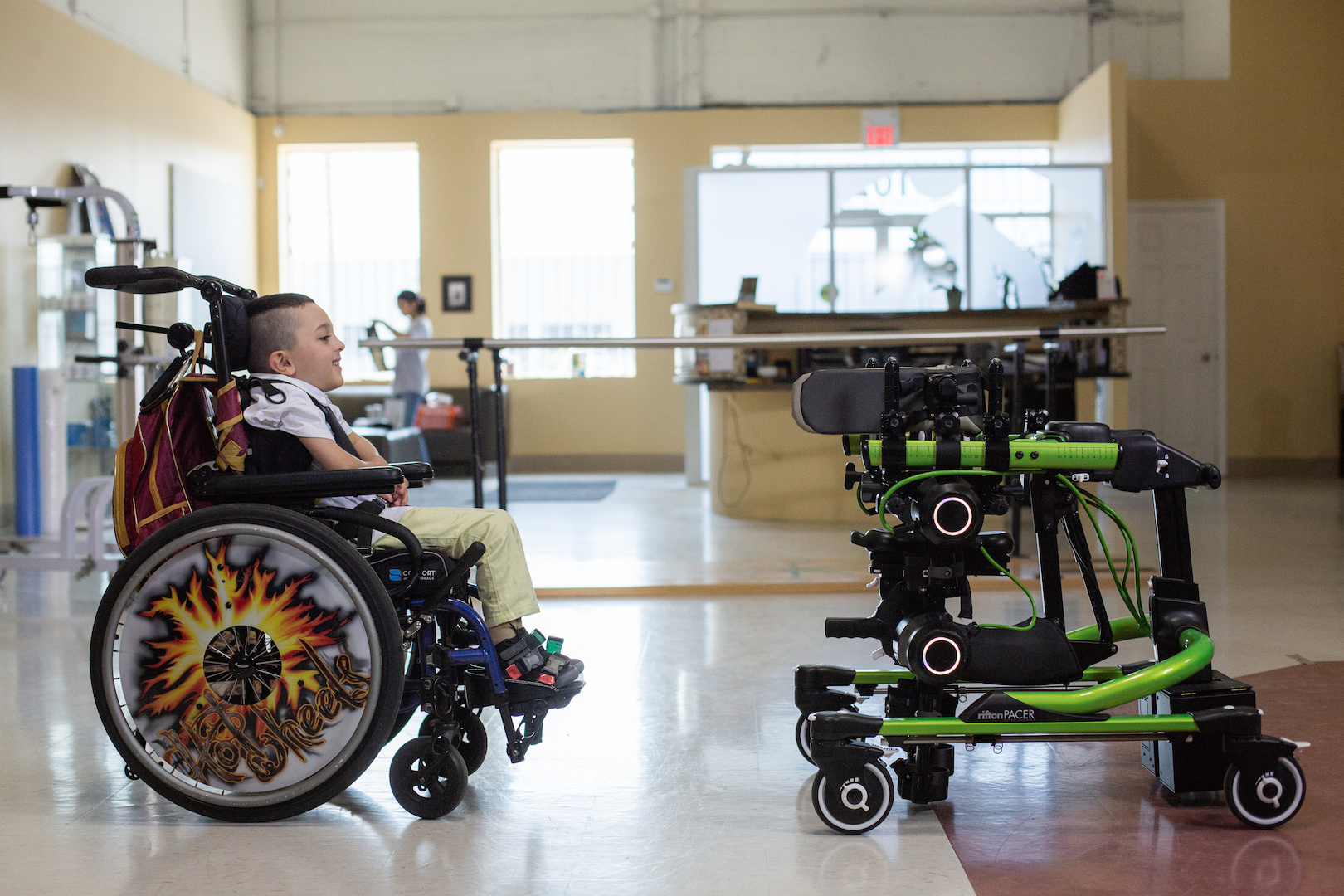 The team has come a long way, but they're excited about the road ahead. The Trexo Robotics walker is undergoing clinical studies and has already been deployed at the Cincinnati Children's Hospital Division of Rehabilitation Medicine, with four more clinical studies at notable hospitals across North America in the pipeline.
Ultimately, Trexo wants to provide an affordable option that's easy for children with cerebral palsy to access. "In many cases, these kids that are using Trexo are walking for the first time in their lives", says Maggu. "I started out on this journey to help my nephew, but now we're just really excited to scale this company and give more kids the mobility options that they deserve."